A journey of a thousand miles begins with a small step. And the road to fulfilling my dream has just begun.
The 2023 Tokyo Marathon was the first of six annual World Marathon Majors event races in Tokyo, held on Sunday, 5 March 2023. Fuelling my passion for running, completing the Big 6 has been a dream, and there could be no better place than Tokyo to start this with. This was my first 42 km, and I couldn't be prouder to complete this in my favourite city.
It is known that getting into the Tokyo marathon is not easy, and runners' capacity was only limited to about 37,500 this year. I was beyond excited when I confirmed an entry through an ASICS raffle for the FrontRunner team, and I was determined to give my best in my first Big 6 race.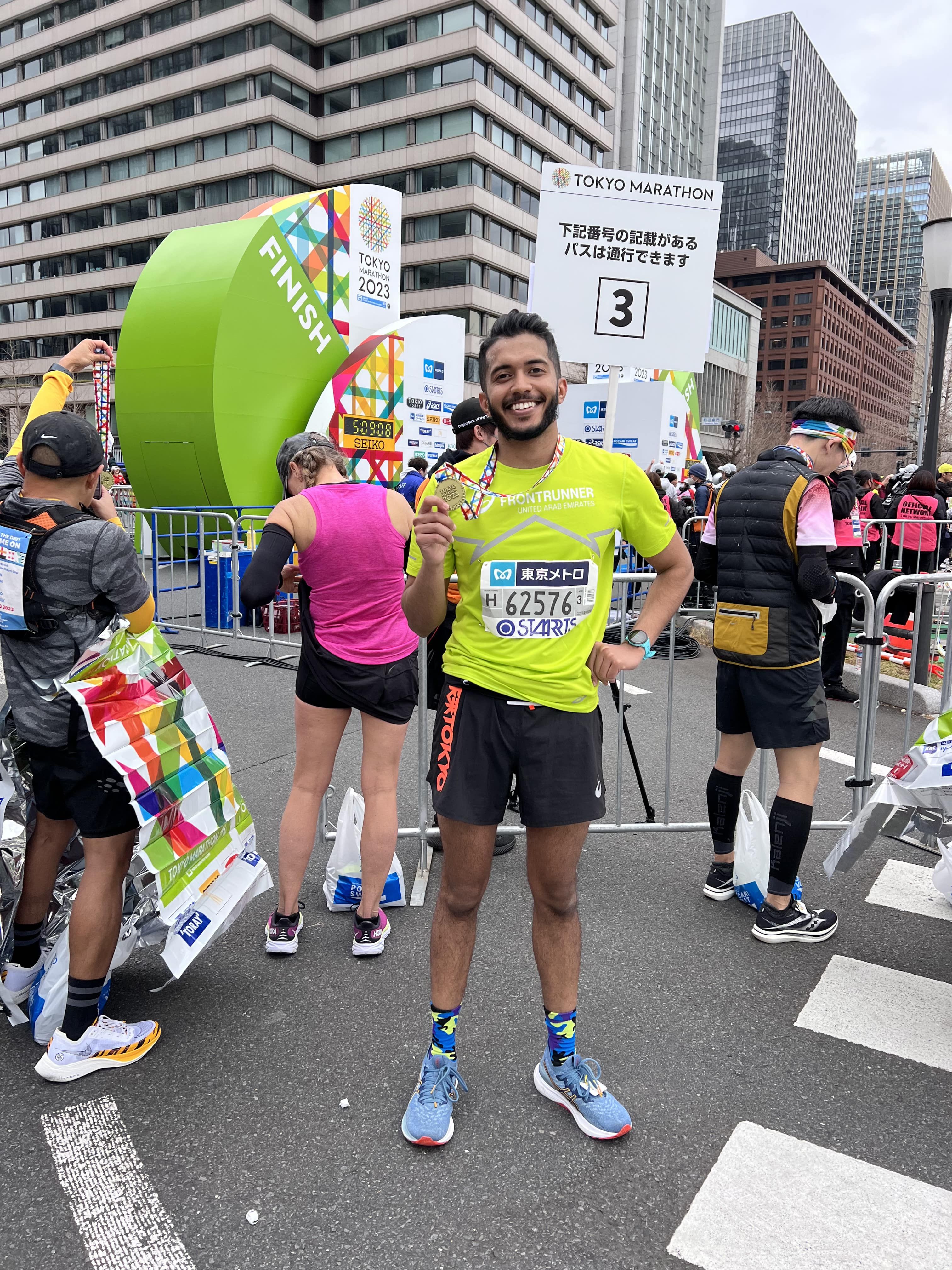 What followed was months of preparation under my coach's supervision, focusing on both runs and strength training. The goal was to be physically fit and mentally prepared for the challenge.

Fast forward to March, and I set for Tokyo a few days before the race day. As this was an international race where runners worldwide would participate, a few strict rules were to be followed, including Covid tests to be done on the day of the race. The excitement was palpable when I collected the bib packet, where the race fever was high amongst all runners. And finally, the day came, and I was filled with joy and anxiety. The race grounds, start line, runners ready and warming up, crowds cheering and the general ambience around me gave me the kickstart to begin the race. I never thought of the period in which I would complete the race and only wanted to enjoy the run. The race course symbolized Tokyo's past, present and future, and we went around different conditions, such as wind and rolling hills, that made the run a bit difficult but also pushed me ahead. When I hit the wall at the 35th km, I was looking around for emergency fuel, and the crowd there was kind enough to encourage and support the runners with kitkats, sugary drinks, and cold sprays. The commendable encouragement kept a lot of runners from stopping and slowing down.

My dream, the support of my people back home, and the moment when I would have the medal in hand kept me going. And just like that, I crossed the finish line 4 hours and 32 minutes later. This was a victorious and emotional moment for me, and it took a couple of seconds to let it sink in. There were tears of joy, group hugs, back claps and dances. We were celebrating our wins, along with a few of my fellow runner friends; we made these moments memorable by capturing all emotions and provisionally forgetting all aches and exhaustion.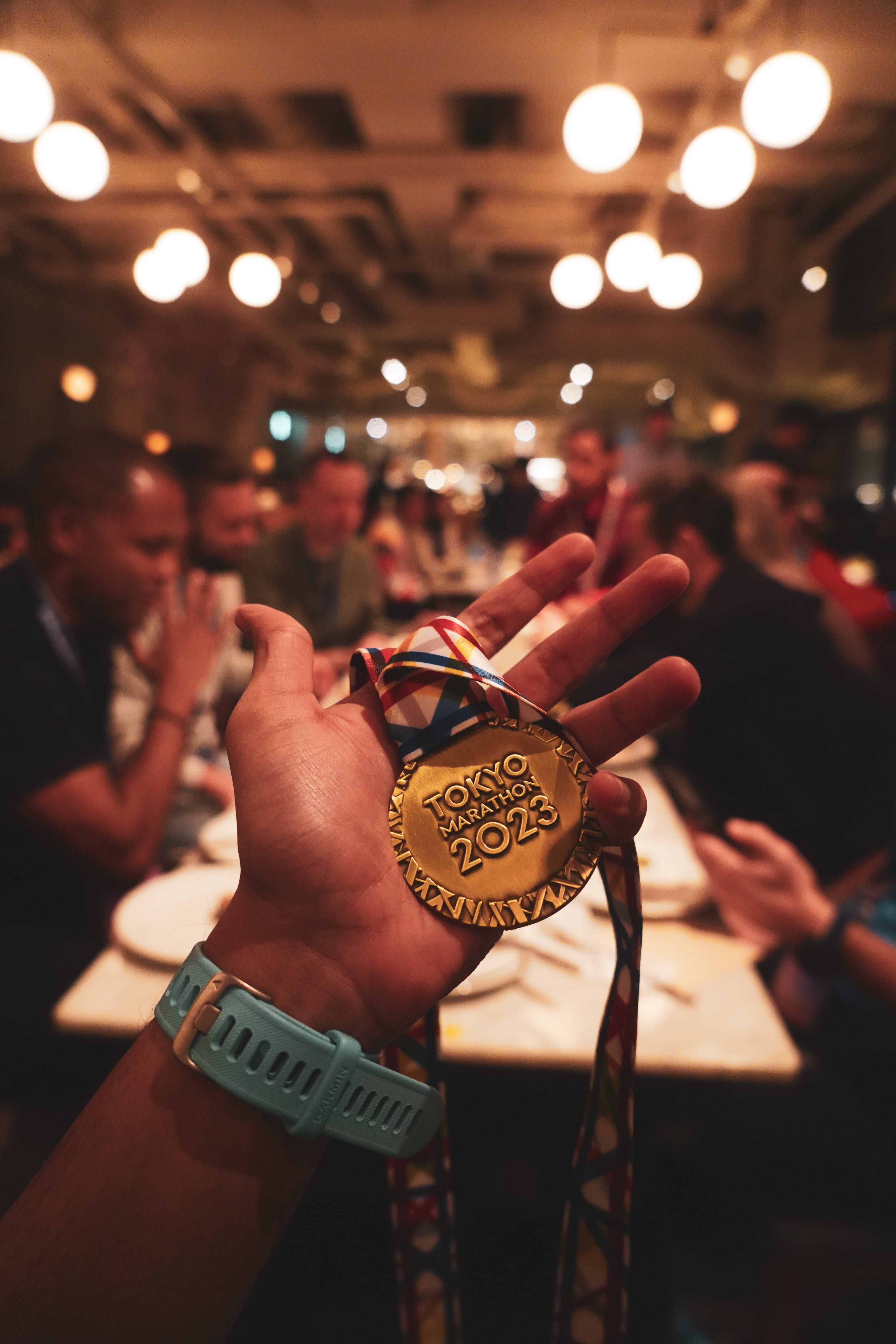 I received immense support from the UAE and Japan Asics teams, and they have been beyond excellent pre and post-race. I am proud to be a Frontrunner for Asics, and representing the UAE community was a gratifying experience. This race has not only given me my first Big 6 medal but also grown my confidence as a runner who can overcome all race obstacles, and the belief that I can do it has only strengthened my spirits. I cannot wait to complete the remaining five races and have my Big six medal, all in time and soon enough!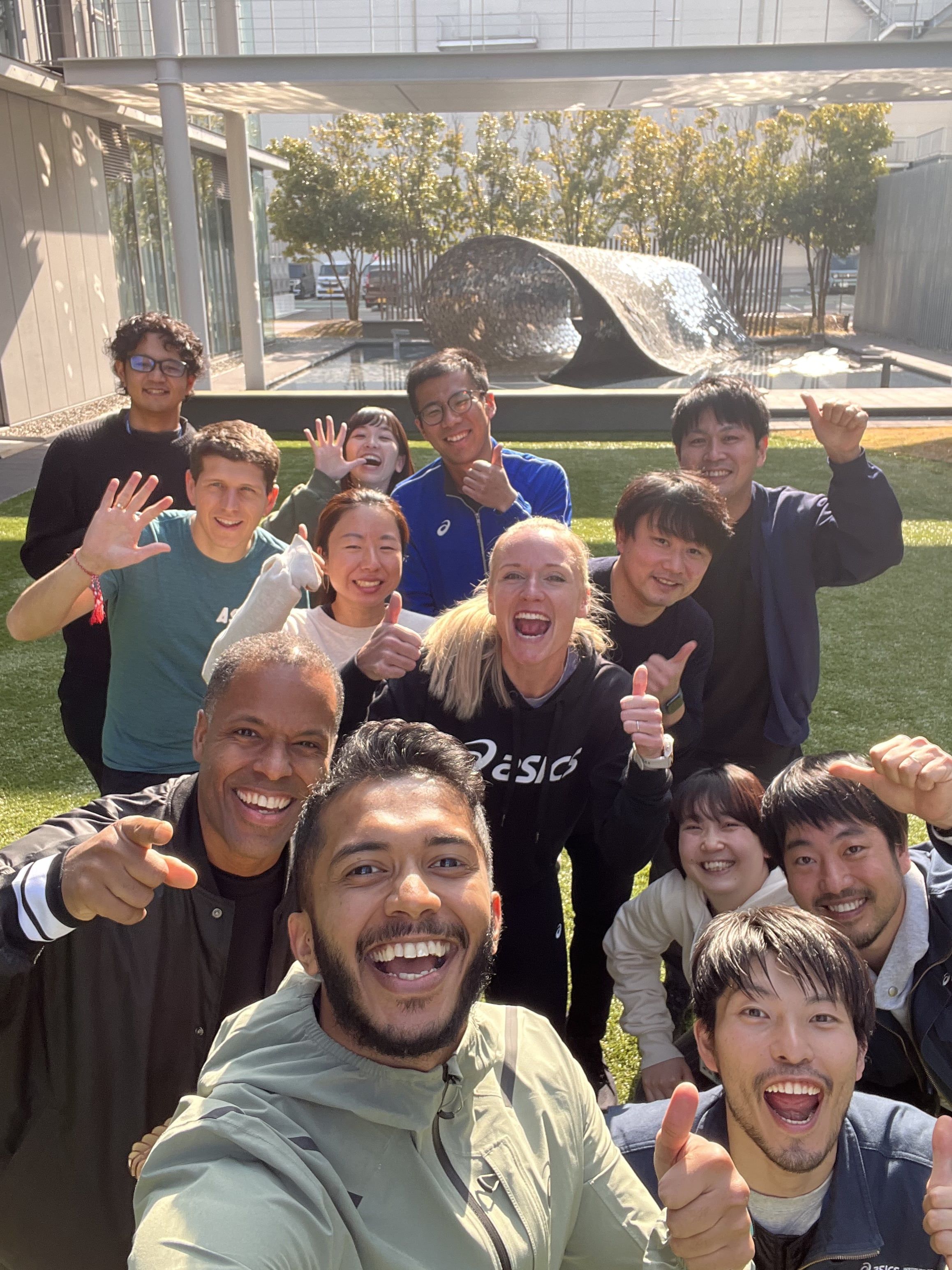 Yes, a full marathon sounds harsh, but nothing is impossible if you put your heart and mind into it and the finish line as the end goal! My brief on the race would not be complete without thanking my fabulous coach and friends who have constantly supported me. There have been times when I was nervous and anxious, but their belief and support always encouraged me to do this.
My overall ratings of the race are as follows:
Organisation: ⭐⭐⭐⭐⭐
Racecourse: ⭐⭐⭐⭐⭐
Cost: ⭐⭐⭐
Overall: ⭐⭐⭐⭐⭐