The London Marathon is among the world's most prestigious and popular marathons. It is an annual race held in London, England, typically in April, open to amateur and professional runners.

Here are some fun facts about the London Marathon:
History: The first London Marathon was held in 1981 and has been held annually since then. The race was the idea of former Olympic champion Chris Brasher and athlete John Disley, who wanted to create a race that would inspire people to get fit and raise money for charity.
Course: The London Marathon course is a 26.2-mile (42.2 km) route that starts in Blackheath in southeast London and finishes on The Mall in front of Buckingham Palace. The course passes by some of London's most famous landmarks, including the Tower Bridge, the London Eye, and the Houses of Parliament.
Participants: The London Marathon is one of the largest marathons in the world, with over 40,000 runners participating each year. The race is open to runners of all abilities, and participants come from all over the world to participate.
Spectators: The London Marathon is known for its enthusiastic and supportive crowds. The route is lined with spectators cheering on the runners, and there are live bands and entertainment along the course to keep the energy high.
Following on the heels of the Tokyo run, I had an entry ticket to the London Marathon that was taking place in 7 weeks. Training had to be changed as it was Ramadan preceding the run, and additional efforts needed to be put in.

Fast forward, and I arrived in London 3 days before the race to familiarize myself with the place. Bib collection was pretty quick on the same day at the expo, where I also met my fellow runners from Active Inclusion (who participated as part of this group and ran for charity supported by them). We all looked forward to running at our comfortable pace, enjoying it and completing the race.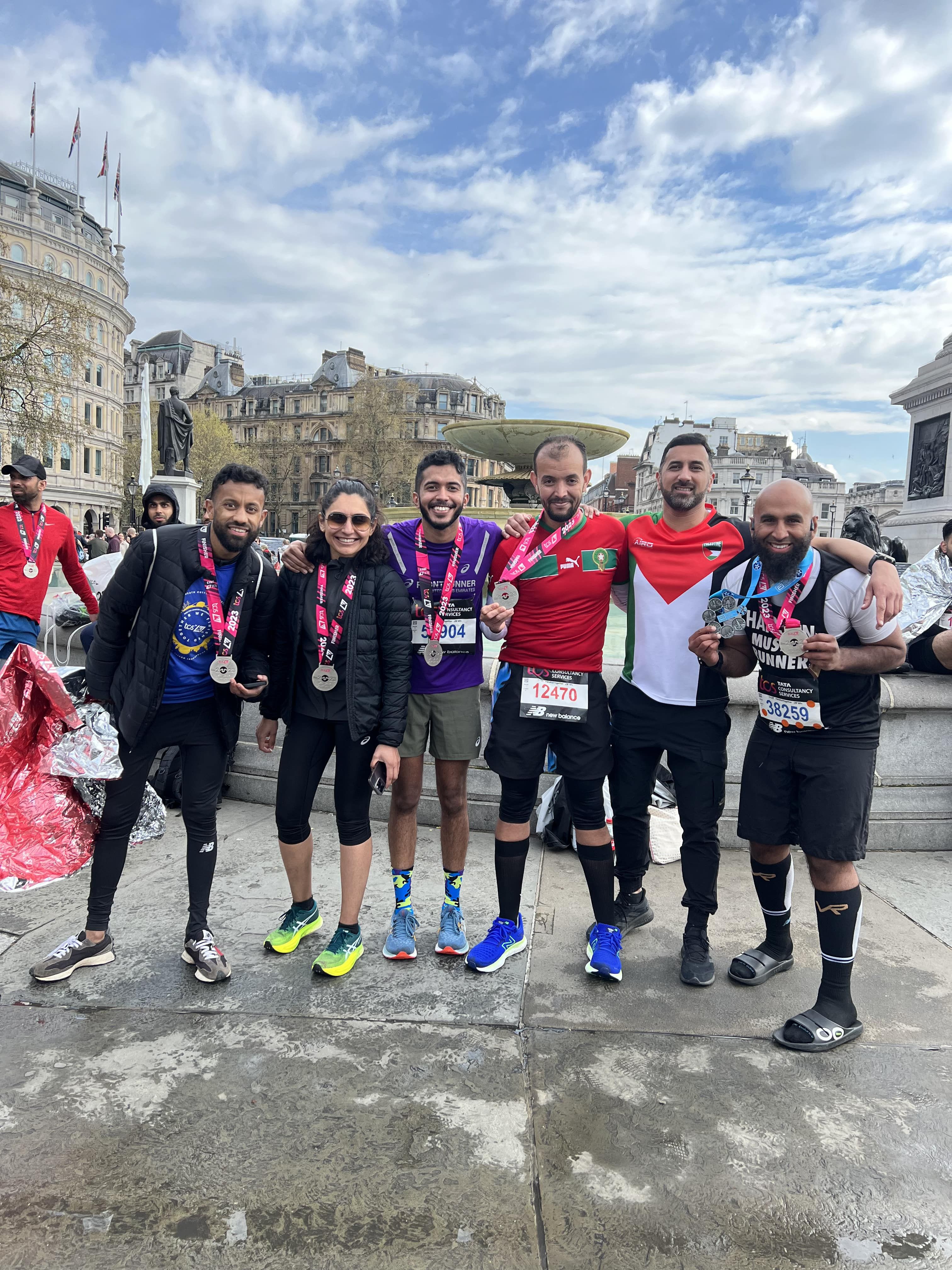 Asics had also organized a shakeout run on the 21st evening, where all the participating frontrunners met up and set out on a 2 km run in Hyde Park. It was fun, goofiness and laughs throughout the run, which was thoroughly enjoyable.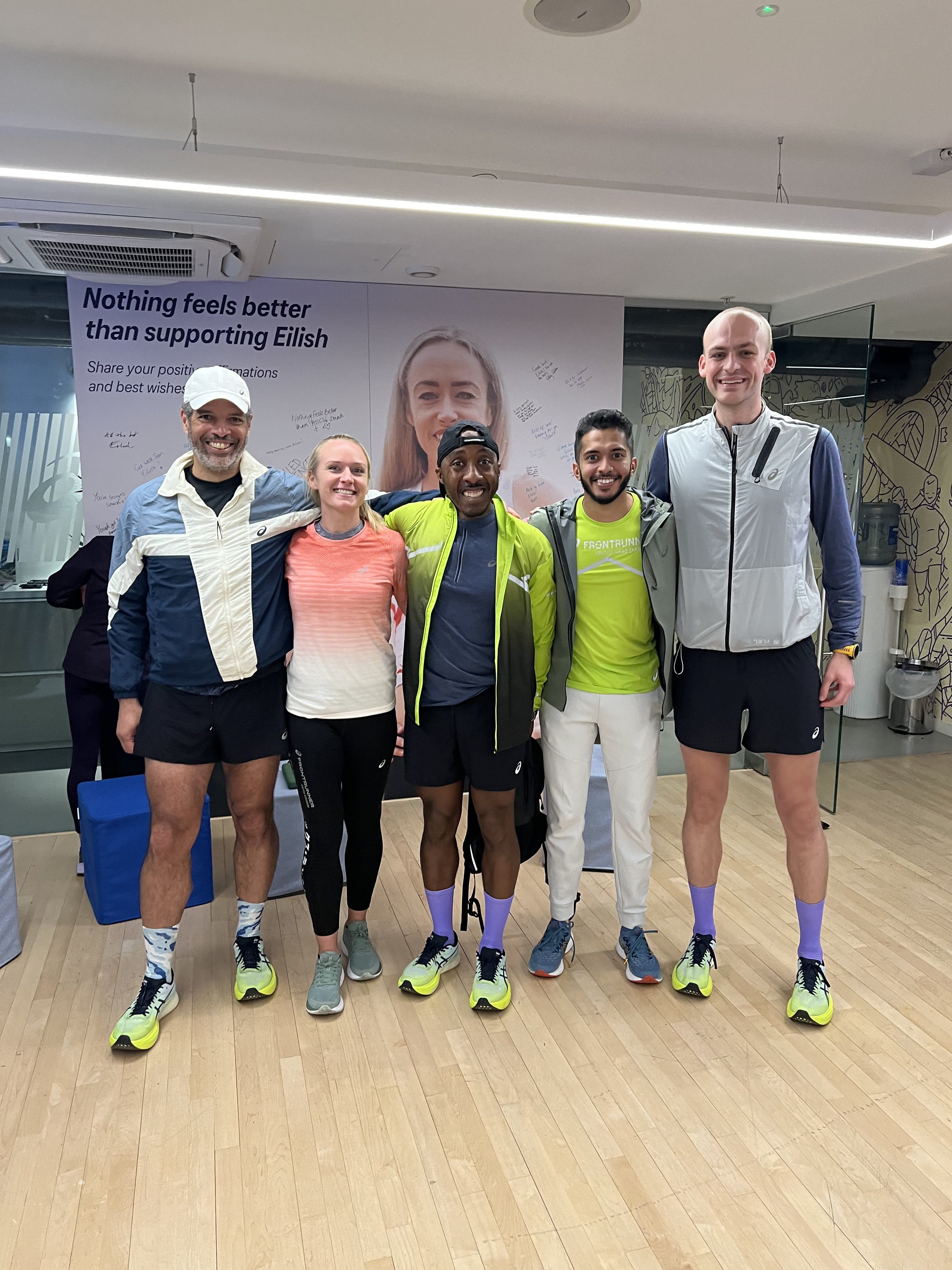 Post this, we were at the Asics store, taking through an exciting discussion on Race Day preparations. And finally, race day, 23rd April, was here. It was a cold and rainy day as I set out to the start point in Blackheath. The tube station was buzzing with runners from all over the world, and energies were palpable with a mixed bag of nervousness, excitement and waiting to set foot on the race ground. The race starting point ground was as colourful and diverse as possible, and soon enough, I began my run. A 26.2 mile run through the London streets, across hills, bridges and with continuous downpours was a different experience.

The cheering crowd who supported everyone, known and unknown, was heartwarming. The body was demanding fuel, and energy gels were not enough, so I stopped once quickly to eat a few oranges that a kind soul offered in the cheering crowd. And 4 hours and 27 mins later, I crossed the finish line. The medal around my neck was my celebratory earned moment, and I wanted to enjoy it as much as possible. My initial pace had set me out to complete the race in 4 hours and 10 mins, but after 19 miles, my pace dropped, eventually costing me time. Nevertheless, I couldn't have been more grateful to complete this run and my second Big 6 in less than two months.
A few of us walked towards Trafalgar Square to eat, celebrate and take group pics. Post-race, I had a quick massage and cold bath for the sore muscles, followed by dinner with the Active Inclusion runners. The sleep that night was peaceful, and having my second medal was the best feeling for me that night.
A big shoutout to my family and friends, who have been my constant support and a special mention to my coach, who monitored my training and mentored me.
In summary, the London Marathon is a highly regarded and respected marathon that attracts runners from all over the world. With its iconic course, charitable focus, and supportive crowds, it's undoubtedly considered one of the best marathons in the world.
My overall ratings of the race are as follows:
Organisation: ⭐⭐⭐⭐⭐
Racecourse: ⭐⭐⭐⭐
Cost: ⭐⭐⭐
Overall: ⭐⭐⭐⭐